ID 153 - Kenko Cloth Tape 48mm x 7y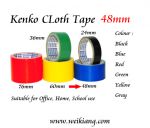 *Call for price
Price:
RM$
0.00
Quick Info
Colour
Black , Blue , Red , Green , Yellow , Grey
detailed description
This rubberised cloth tape is perfect for binding and book repairs.
It is not only very strong, but has a strong, long lasting adhesive.
A wide range of colours is available.
photo gallery