ID 298 - Astar A620 Table Sharpener - Big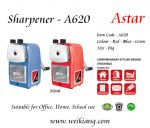 *Call for price
Price:
RM$
0.00
Quick Info
Colour
Gray,Blue,Red
Material
Metal
detailed description
Size : 6cm (W) x 11cm (L)
USAGE :
1. Mount Securely on desk.
2. Draw out the automatic feeding carefully.
3. Press the button to open the clutch and insert pencil.
4. Turn handle to sharpen pencil until cutter turns freely.
photo gallery